Bespoke Diversity Wall Planner
---
Let us build your bespoke Diversity Wall Planner.
Just send us your logo and some images!
Create your own title! Co-ordinate holiday schedules and project activities!
We can include month end dates, pay dates and holidays. Make sure organisation events don't clash with important days, festivals or diversity dates. leave This useful Diversiton Wall Planner is great value – with prices beginning at just £6.99 per planner!
The clearly structured Year Planner is ideal for offices, colleges, reception areas, hospitals, local authority premises, etc. The large A1 size Planner (available in other sizes) is an ideal way to help your staff and customers to quickly check what is happening this week, next week or in 3 months' time!
The Wall Planner with your logo and images acts as a constant visual reminder of your commitment to inclusion, promoting diversity and ensuring respect for all.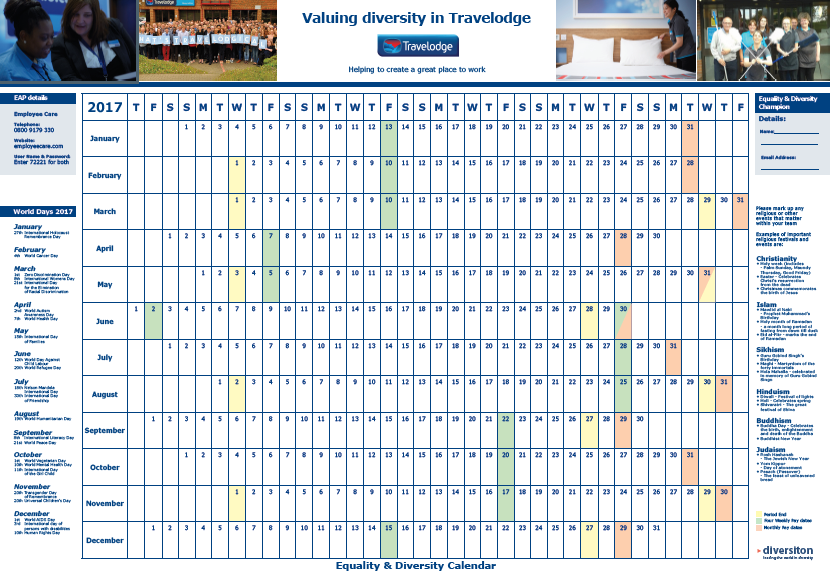 ---
100 Wall Planners - only £7.99 each
200 Wall Planners - only £7.49 each
300 Wall Planners - only £6.99 each
Includes your logo + images
Large A1 size folded to A4 for easy distribution
If you wish to add dates and/or shade boxes please add £195.
Diversity Dates Package
---
If you are looking to create your own diversity or inclusion resources or would like the definitive set of Diversity and Inclusion dates for 2020 then our Dates Package is ideal. Only £395.
Many organisation have direct experience of trying to gather and verify dates, choosing the most important dates (for that tradition) and ensuring they get the balance of dates right (across categories, cultures and religions/beliefs).
Diversiton's Dates Package is respected, trusted and reliable. It comes in a handy Excel format.