Prevent
---
Keeping all of our children and young people safe
Staff must receive effective training
Developing an awareness of the Prevent strategy, how to respond to the risks, and how to identify someone at risk from extremism and radicalisation is an essential element of the new duty.  Staff should receive training that gives them knowledge, skills, and awareness, and those in leadership positions may require additional training to ensure that they have a full grasp on the new duty.
Diversiton offer a wide range of workshops, programmes and initiatives that promote and build engagement, address the danger signs of potential radicalisation and empower staff/students to become the drivers of more inclusive communities. Using these initiatives, Diversiton can help your organisation, college or school to develop a comprehensive strategy to support all our young people and students.
Developing a Strategy for training and supporting your staff in Prevent
---
If you would like to create a training strategy for staff in relation to Prevent, then we recommend starting with our one day Needs Analysis Process.
This involves a morning session with all staff to assess needs, identity issues and agree priorities.
The afternoon goes into further detail through a series on individual interviews with key personnel.
A report is then produced with key recommendations on training priorities, delivery options and a suggested training plan in line with operational practicalities and budget.
Workshop 1 – My Isis Bride / In the Name of Allah
---
Diversiton delivers an interactive one day workshop dealing with real-life scenarios. Using young professional actors as the key figures, Staff and Students have an opportunity to see stories played out in front of them. They witness first hand the indicators and warning signs that were missed. Each 'play scenario' can be 'paused' to reflect on what is happening and to explore options that might have be taken to address the situation. This learning method engages each person as a participant in the unfolding story – just like we are in real life. The day features two key stories based on real life events. It is suitable for staff and /or student training.
My Isis Bride – how a young local girl prepares for and makes her way to Syria – without anybody ever knowing what was happening.
and
In the name of Allah – how one young boy is inspired to follow his dream of fighting for justice.
'Thought provoking, innovative, challenging and totally absorbing. If you are tired of PowerPoint training on 'Prevent' this is definitely the answer!'
Workshop 2 – Understanding and Recognising Risks and Vulnerabilities of Radicalisation
---
There is no such thing as a typical extremist. It is recognised that a complex relationship between the various aspects of an individual's identity determines their vulnerability to extremism. Generalised assessments based upon demographics and poverty indicators have often been shown to increase victimisation, fail to address vulnerabilities and, in some cases, increase the ability of extremists to exploit, operate and recruit.
This workshop deals with the indicators that help to understand and identify factors that may suggest a child, young person or their family may be vulnerable to or be involved with extremism. These include: Vulnerability, Access to Extremism / Extremist Influences, Experiences, Behaviours, Influences and Social Factors.
The workshop includes the full list of observable indicators of possible radicalisation under the 5 main headings of:  Self-identification / Us vs. Them Societal View / Social Interaction / Persona / Association
The interactive training format encourages participants to explore strategies and tactics for dealing with each factor or situation.
Workshop 3 – Training in Religious Diversity
---
Overview
This training session will provide valuable help and practical support for those wishing to develop greater awareness of religious diversity. Over 700 organisations have experienced this award winning half day workshop. Ideal for the workplace, schools, colleges and training providers.
Course Aims
This training programme on religious diversity seeks to impact at three levels:
The individual as a person – our understanding, perceptions, attitudes, behaviour and relationships with others with regard to the issue of religious diversity.  How we develop our understanding, impacts on our families, our friends and those we work with.
The workplace – how our organisations respect, through their systems and practices, the needs of those from other faiths.  We as individuals have an ongoing and important part to play in this.
The cumulative impact of all of this is to help to create the type of society that respects and values each of its citizens irrespective of culture, religious belief or background.
Key Topics
Belief systems and faith patterns in the UK – main concepts and challenges.
Getting to know our neighbours – 10 different faith communities.
Overview of the equality provisions.
Working, learning and living together – legal requirements and practical considerations.
Recognising the needs of different faiths at school, college and in the workplace – how are we doing?
Looking after all our children – understanding religious diversity in schools.
Building Good Relations with people of different faiths and beliefs – our role in religious diversity.
Workshop 4 – Building Social Capital to support Prevent
---
Social Capital is created through
Collaboration – coming together in new and different arrangements.
Co-operation – working on an agreed task, opportunity or need. There is a plan and management of the task.
Creativity/Innovation – coming up with new approaches & different methodologies.
Delivery – producing additional results, benefits and outcomes which would not have happened without this approach.
Social Capital has the potential to be created and built within the context of an organisation or community. Organisations can find new ways for people to link up and work together that are not limited by organisational structure. Individuals can achieve greater fulfilment by utilising their skills and experience across a range of tasks and challenges.
Healthy Social Capital includes:
A sense of belonging and inclusion
A commitment to the greater good which translates the 'I' mentality into the 'we' mentality
Loyalty
Reliability, transparency and trust
Norms of reciprocity and altruism
Co-operation and collaboration
Leadership.
This one day workshop looks at how your organisation can build and strengthen its social capital through a series of local initiatives to ensure there is a strong framework to underpin all of your work.
These local initiatives (to tackle poverty, support those in need, work with the under-employed, etc.) can demonstrate that those of different cultures, views and traditions are welcome, have an important role to play and can add real value for the community.
Workshop 5 – Meeting and dealing with people from different traditions
---
This is a really useful workshop identifying what we should be aware of when meeting with people from other Religions and Beliefs: including Hinduism, Islam, the Bahá'í Faith, Buddhism, Christianity, Judaism, Sikhism and Paganism.
The workshop covers practical topics such as:
– Clothing and modesty, Communication and greeting, Dietary needs, Fasting, Religious practice, Washing and toilet, Background, Founder, Beliefs and practices PLUS Holy Days and Celebrations.
This workshop helps to promote a positive understanding of religious and cultural diversity. It also offers ready-made training and support material for courses or briefing sessions with managers and front line staff.
This workshop is ideal for boosting staff's knowledge, supporting their understanding, promoting equality and increasing respect.
This straightforward and practical session will be especially helpful to those who may be meeting, working with or visiting people from various faith traditions in many everyday situations.
Workshop 6 – The International 'PeaceBuilder' Programme
for Children and Young People
---
Young people have an opportunity to link up with their counterparts in countries such as Ghana, Madagascar, Namibia, and Kenya. These initiatives offer incredible learning opportunities, life changing experiences and lifetime friends. We can design initiatives for young people in your area and link them into the wider network.
The International 'PeaceBuilder' Programme has received support from Helena Bonham-Carter, David Beckham, Alan Shearer, James Caan, Gary Linekar, Sting, Emma Thompson and many others.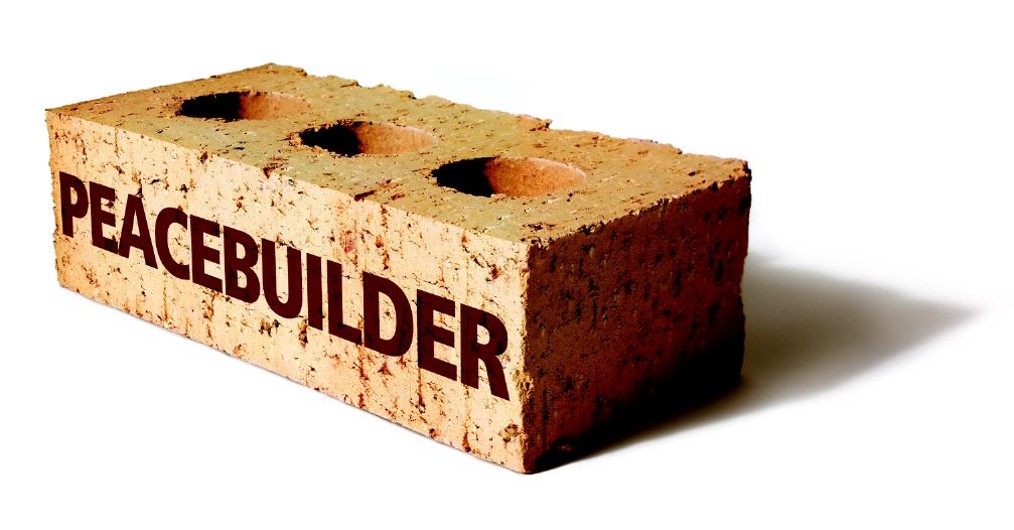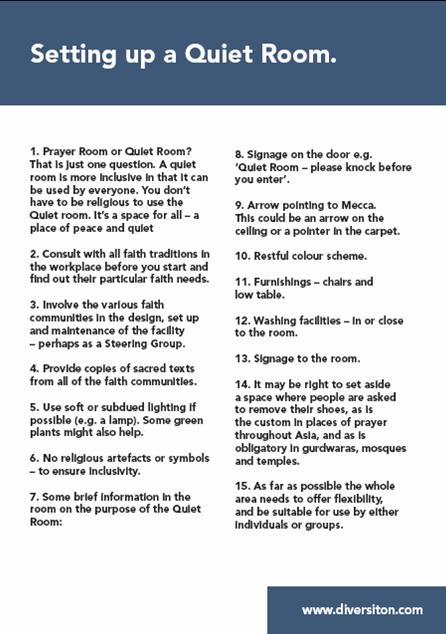 Workshop 7 – Do we need a Prayer Room?
---
Do we need to set up a prayer room?  What are the alternatives?  Who is this for? What needs to go into the room? What about the idea of a 'quiet room' or a chapel instead? What are the rules in terms of usage and availability?
These are just some of the regular questions that we receive when we are delivering religion and belief training. This half day workshop is dedicated to looking at the issue of a prayer room in your organisation.
'A practical workshop that will answer all the key questions for your organisation.'
Peace Education Programmes
---
Diversiton delivers a range of Peace Education training programmes worldwide. These are available in numerous formats including for example – an introductory one day workshop, 2 day residential or 13 week programme (1 day per week).
 Peace Education gives us insights on regional conflicts across the world and provides the tools and techniques for local and international peace-building which are so important to-day. Key topics include:
Peace Education – different approaches and different strategies
Engaging Communities – creating inclusive and effective empowerment processes
Peacebuilding in other world contexts – lessons for us
Becoming personal peacemakers – how we can create a sustainable and lasting legacy
The 'New Space' model of Reconciliation
'Collective Effectiveness' – creating new partnership arrangements
Gandhi's Nonviolence curriculum
Spiritual Peacebuilding models
Current Community and Peace-Building Initiatives
---
Here is a selection of some of the programmes we are delivering at the moment…
Peace Initiatives, Training and Support
---
As well as the ongoing work in Northern Ireland and the Border Counties, Diversiton and its Partners are currently delivering a range of peace consultancy/community empowerment initiatives across the Middle East, Africa and Europe.
Some of these include:
Designing Peace Education (and nonviolence) programmes internationally with Aaron Gandhi (the grandson of Mahatma Gandhi).
Delivering anti-radicalisation programmes for inner-city London training bodies.
Supporting the Baha'i community in Cyprus in their peace-building work in the Turkish controlled North and the Cypriot controlled South.
Consultancy work on sectarianism in Bahrain (Sunni and Shia).
Working on community engagement and empowerment initiatives with Government Departments in Scotland, Slovakia, Wales and Australia on priorities such as peace building, engagement, anti-sectarianism and peace education.
Our practical experience reflects the new and challenging local/global context for peace building and engagement that we are all faced with. It also offers the potential for innovation, new approaches and fresh thinking in the design of local initiatives.
Contact us
---
If you think we can help or support you in any way please call or drop us an email.

Diversiton has a wide network of experienced trainers and facilitators. We are grateful for the opportunity to work in partnership with Local Councils, Community Groups, Universities/Colleges and leading Businesses – as well as a wide network of committed individuals.
We look forward to hearing from you at any time.
Contact Sharon(at)diversiton.com / call 02841 754 777
Training Workshops
---
Diversiton has years of proven experience in designing, marketing and delivering large scale training events. These workshops are highly interactive and participative to encourage individual engagement and empowerment.
These are ideal for schools, colleges, community settings and organisations. Working with your organisation we can deliver large scale Consultation workshops which are highly participative, enjoyable, challenging and productive.