5 Minute Guides to Sikhism
---
Diversiton pocket Guides to World Faiths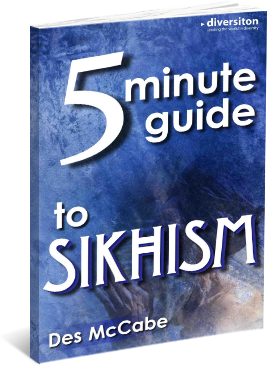 Did you know that there are approximately 25 million Sikhs in the world today?
That Sikhism is recognised as the youngest of all major world religions? That it promotes, among many teachings, the rejection of the caste system, idol worship and the inferiority of women? That there are four cardinal sins (cutting one's hair, adultery, the use of tobacco or other drugs, and eating ritually slaughtered animals)? That the notion of priesthood is alien to Sikhs?
The 5 Minute Guide to Sikhism is the ideal starting-point for those wishing to learn more about one of the leading belief systems of the world. A succinct and highly accessible summary, this handy guide provides the perfect introduction to the essentials of Sikhism.
Additional features of this pocket guide include special days and timeline of important dates.
The 5 Minute Guide to Sikhism is one of a new series of pocket guides to world faiths. Each guide gives essential information on the history, traditions, beliefs and ways of worship in each faith.
Update your knowledge with this great little refresher book – compact, easy to read and true to the essence of Sikhism.
Perfect for the workplace, college, school and at home. Start building your collection of the 5 Minute Guides to World Faiths – the most highly respected and trusted series of religion and belief ebooks available.