5 Minute Guides to Judaism
---
Diversiton pocket Guides to World Faiths
Did you know that there are approximately twelve million Jews worldwide?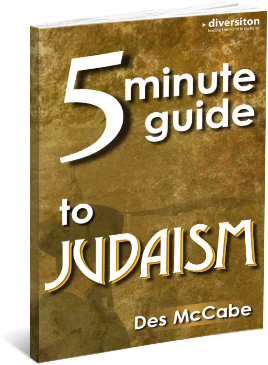 That Judaism and Christianity both recognise the Old Testament as Holy Scripture? That Jews believe in one true God who is an all-powerful being, and with whom each individual has a direct personal experience and to whom prayers are addressed?
That Judaism has its own specific dietary laws whereby certain foods are permissible (kosher) and others not? The 5 Minute Guide to Judaism is the ideal starting-point for those wishing to learn more about one of the leading belief systems of the world. A succinct and highly accessible summary, this handy guide provides the perfect introduction to the essentials of Judaism.
Additional features of this pocket guide include: special days and timeline of important dates.
The 5 Minute Guide to Judaism gives essential information on the history, traditions, beliefs and ways of worship.
Update your knowledge with this great little refresher book – compact, easy to read and true to the essence of Judaism.
Perfect for the workplace, college, school and at home. Start building your collection of the 5 Minute Guides to World Faiths – the most highly respected and trusted series of religion and belief ebooks available.