5 Minute Guides to Jainism
---
Diversiton pocket Guides to World Faiths
Did you know Jainism is one of the world's oldest living religions?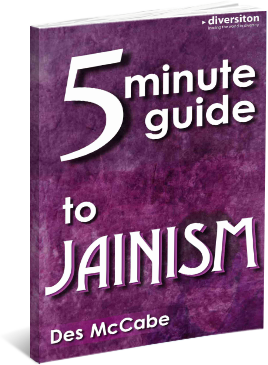 That there are approximately 3.5 million Jains in the world today? That Jains believe that all living things (animals and plants) have souls and are of equal value?
That all Jains are required to be vegetarians? That Jainism teaches that the universe and all its substance or entities are eternal?
The 5 Minute Guide to Jainism is the ideal starting-point for those wishing to learn more about one of the leading belief systems of the world.
A succinct and highly accessible summary, this handy guide provides the perfect introduction to the essentials of Jainism.
The 5 Minute Guide to Jainism is one of a new series of pocket guides to world faiths. Each guide gives essential information on the history, traditions, beliefs and ways of worship in each faith.
Update your knowledge with this great little refresher book – compact, easy to read and true to the essence of Jainism.
Perfect for the workplace, college, school and at home. Start building your collection of the 5 Minute Guides to World Faiths – the most highly respected and trusted series of religion and belief ebooks available.